Advanced Siding Repair Options
Replacing or repairing your home's siding will give it both a cosmetic boost and an energy-efficient update. However, if the repair isn't done correctly, it can lead to water damage and more expensive repairs. It's important to address siding issues promptly to prevent further damage and maintain the integrity and appearance of the building. In some cases, if the damage is extensive or the siding is beyond repair, a complete siding replacement may be necessary. Consulting with Charleston Advanced Siding Repair can help assess the situation and determine the most appropriate siding repair or replacement action.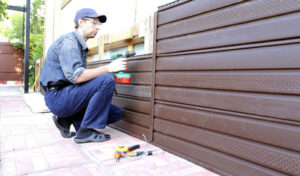 In general, repairing small cracks and chips is relatively cheap. More extensive damage, such as rot, dents, and leaking, should be addressed promptly to avoid further damage or mold growth. Everlast composite siding is an advanced home improvement option with a realistic wood grain texture and butt-joined seams that do not overlap (like vinyl). It resists degradation, rusting, and fading more than any other product on the market. It does not require caulking or painting, and can be cleaned with a garden hose. Additionally, it has a 50-year prorated limited lifetime warranty to the original homeowner. Heins Contracting is highly experienced with this product and undergoes routine training to stay up-to-date on new installation methods and techniques.
Many siding replacement companies vehemently recommend against vinyl siding because of its numerous problems, and are right to do so. However, turning a blind eye to the development of premium siding options such as Everlast would be a major oversite. As building technologies continue to advance, it is only natural that homeowners have access to more durable and attractive siding options.
The innovative triple-composite process that yields Everlast siding produces a powerful exterior cladding that lasts for life. Its moisture resistance exceeds that of fiber cement, wood, and vinyl. It also does not swell, bow, or rot. In addition, its inorganic composition makes it invulnerable to wood-boring insects.
While other products may provide a lower initial cost, their required maintenance is expensive and results in premature degradation and failure. Everlast's unique composite material uses inorganic minerals, polymer resins, and acrylic colorants.
Unlike vinyl, its cellular PVC is extruded with precision tool and die manufacturing to the highest tolerances. This allows for a deeper and more precise profile that is both thicker and stronger than conventional plastics. It can withstand a significant amount of pressure and is also UV-resistant.
It is backed by an unmatched limited lifetime warranty to the original homeowner, and can be transferred to subsequent owners as well. It is not a DIY product and must be installed by a professional installer with the proper tools and safety equipment. It is also much more expensive than vinyl and requires a higher skill set. The initial investment is well worth it, as the long-term savings in time and money will be substantial.
Vinyl siding is plastic exterior cladding that can be used to improve the aesthetics of a home, weatherproof it and increase its insulation. It is made from a strong Polyvinyl Chloride (PVC) resin and comes in many colors and textures.
It is relatively inexpensive, making it a popular choice for those who are looking to renovate their homes on a budget. Vinyl is also low-maintenance and resists cracking and fading. However, it does tend to melt in extremely hot temperatures, especially if the house is not properly insulated.
If you're interested in recladding your home with vinyl, you can use the Georgia-Pacific "Vinyl Visualizer" tool to see what the different styles and colors of vinyl will look like on your own home. The program allows you to experiment with the color of your home's siding, and then change various components like windows and doors to see how they will affect the final result.
When vinyl is installed correctly, it is highly resistant to moisture and extreme temperatures. However, if there is no form of house wrap or insulation under the vinyl, it can allow water to enter and damage the sheathing behind it. Adding an insulating underlayment, such as house wrap or spray foam, will help to prevent this from happening.
Another problem is that vinyl can be brittle in very cold temperatures, and it can easily crack or break. If this happens, it will allow water to penetrate and cause incalculable damage to the sheathing of the home. This can lead to mildew, mold and structural damage.
To prevent this, it is important to ensure that your contractor installs the proper underlayment before installing the vinyl. It is also recommended that caulking is not used in spots where the vinyl meets inside corners, outside corners or J-trim. This is because the expansion and retraction of the vinyl requires room for movement without being constricted by the tight fit of caulking.
If you find that your vinyl has been damaged, it is possible to repair the hole yourself if you have some basic construction skills. Firstly, you will need to clean the area and then prime it with Zinsser Bulls Eye 1-2-3 Primer. Once this has dried, you can paint over it to match the surrounding vinyl.
Cedar siding is a beautiful choice that gives the traditional American look of clapboard or shingle-style siding. It comes in a wide range of colors and styles. Cedar is also highly durable and weathers very well. It is easy to paint and stain, if desired. It will last for decades if properly maintained.
Like all wood, cedar requires recurring upkeep. This includes checking the siding for signs of rot and pest damage, as well as staining and repainting every 3 to 5 years. Cedar will deteriorate if left unprotected, as the tannin in the wood can cause it to rot or twist. It is also vulnerable to insect attack, especially termites, which can cause holes in the siding.
Another issue with cedar is that it is not as insect-resistant as some other types of wood. Termite damage to cedar can be difficult to detect until the damage becomes severe. Additionally, it is important to keep cedar from rubbing against iron fixtures because they will rub off the wood, which can lead to rust stains.
Aside from regular power washing, cedar requires routine staining to preserve the color. This is particularly important in dusty climates where a fine powder of dirt collects on the siding. In addition, a periodic application of a non-phosphate wood cleaner will help to maintain the look of your cedar siding.
It is also a good idea to check the caulking regularly. Many homeowners make the mistake of using caulk in places where flashing should be used, such as around windows and doors. This can cause leaks and even rot.
The good news is that new advances in vinyl and polymer siding are making them a viable option for many homeowners. They offer the authentic texture and style of wood, but without the problems associated with wood. Additionally, they are much easier to clean and maintain. Many manufacturers offer a factory finish on their products, which can save time and money when compared to field staining. Choosing a product with a baked-on color from companies such as James Hardie can help to ensure a long lasting, fade-free finish.
Stone siding is a popular option for homeowners who want to add a distinct, beautiful look to their homes. It's durable and long-lasting, with a unique beauty that cannot be replicated with other materials. However, cladding your home with stone can be expensive, and it can require extensive maintenance and repairs. Fortunately, there are some ways to reduce the cost of stone siding.
There are a number of different types of stone siding available for your home, from natural thin stone veneer to full masonry cladding. The type of stone siding that is best for your home depends on your budget, the climate where you live, and the overall style of your house. Natural stone cladding is a great choice for homes that are in harsh weather conditions, as it's designed to withstand a lot of heat and moisture. However, it's important to note that this type of stone siding isn't the cheapest and may be difficult to find at your local retailers.
Manufactured stone siding is a less expensive option for those looking to bring the look of natural stone to their home. It's usually made from a mixture of concrete and other cost-effective materials that emulate the look of stone. While it may not be as durable as natural stone, it is a much more affordable option for those who don't have the budget to clad their home with authentic stone.
Another good option for those who are looking to save money on their stone siding is to choose a veneer panel stone siding. This type of stone siding is much easier to install than solid stone, so it's a smart choice for those who don't want to spend a lot of time on their renovation project. It's also important to keep in mind that while veneer panel stone siding is easy to work with, it may not last as long as the other options for stone siding.
One of the main issues with stone veneer siding is that it's not always installed properly. This leads to problems with moisture, which can go unnoticed until the walls rot. If proper gaps aren't left to ensure that moisture is directed away, then mold will form and can spread throughout the house. If left unchecked, this will create a serious health risk for the family.