How to Properly Clean a Deck
Cleaning a deck requires careful preparation. The first step is to inspect the surface for stains and damage. If you notice spots, you can clean them with a pressure washer. You can also use an eco-friendly deck cleaner. It's important to remember to pre-rinse the cleaning solution to make it disperse more easily.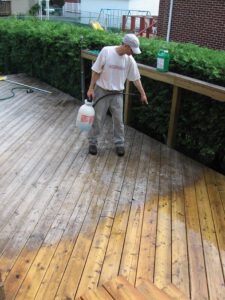 The best eco-friendly deck cleaners do more than just remove grime. They are also biodegradable, so you can feel good about using them without worrying about damaging the environment. They are also cost-effective and don't remove paint. You should be aware of the different chemicals used in non-skid deck cleaners, so you can choose the right one for your needs. To learn more, read on Pro Deck Builders Charleston.
The best eco-friendly deck cleaner is a concentrated solution that will clean up to 6,400 square feet of decking with just one application. The active ingredient in this product is hydrogen peroxide, which is safe for you, your family, and the environment. The product works on wood and composite decking and is effective on tough stains.
Oxalic acid, another eco-friendly deck cleaner, is great for restoring the original color of your deck. It has a bleaching effect on the wood and can actually reverse the effects of UV rays and fading. Oxalic acid is also biodegradable, so it won't affect plants and grass around your deck. However, oxalic acid can be toxic if used in concentrated amounts, so use caution when using it.
One type of deck cleaner that works well against mold and mildew is trisodium phosphate. This powder-based product works well to kill the fungi that cause mold growth. However, it's not the most eco-friendly solution and should be used only if your deck needs serious cleaning.
During spring, hard water deposits on your deck can be a problem. Hard water contains high amounts of minerals and can cause unsightly spots. These deposits are usually white or chalky, but they can also be brown or rusty. Regardless of color, these deposits are not pleasant to look at.
To prevent these deposits, use a deck cleaning solution made from white vinegar. A solution that contains this ingredient should be diluted with hot water. You can use this solution to clean a composite deck. Ideally, you should use a pressure washer with a nozzle that is at least four inches from the boards. While you are spraying the deck, work along the grain of the wood. The stream of water from the pressure washer should lift most of the stains and molds from your deck.
Another common problem with hard water is the formation of stains on windows. These are caused by calcium and magnesium carbonates. These minerals are naturally occurring in our water, but over time, they accumulate on surfaces. If not treated properly, these stains will be more difficult to remove. To minimize the risks of hard water stains, make sure to wash your windows regularly. Diverting sprinklers and installing gutters are other ways to avoid mineral buildup. Lastly, consider using a water softener to reduce the occurrence of stains.
Hard water stains are not only unsightly but can also damage your windows. These stains can cause a cloudy appearance and even interfere with the transparency of the glass. The stains can also affect the color and texture of your windows. In the worst-case scenario, you may even need to replace the windows.
Inspecting your deck for damaged spots can be a DIY project. You do not need construction knowledge or experience, only basic tools and some time. By inspecting the damaged spots, you can ensure that your deck remains safe for use. The first step in inspecting your deck for damaged spots is to check the footings, which are concrete slabs that are poured into holes dug below the local frost line.
Next, check the posts. Make sure that they are vertical and have no large cracks or holes. Inspect two adjacent sides of each post to ensure that they are level. Another area that should be inspected closely is the ledger. Rotted ledgers are one of the leading causes of structural deck failure. If not repaired, they will pull the deck away from the house and cause it to collapse.