The Basics – Roofing and Gutters
It is possible to remove the old gutters without damaging the roof. However, you should know a few important things before replacing your gutters. Roofing and gutter contractors must have a good reputation. They should provide warranties for their work. The best way to determine whether a gutter repair company is the best choice for you is to ask for references. It is essential to consider a few different factors when choosing a company.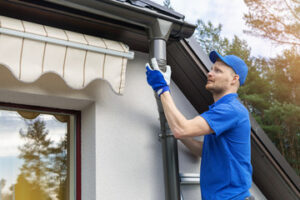 Roofing and gutter companies will have different methods for completing a project.  Roofing and Gutters will have a gutter division within their business or subcontract the work to another company. Regardless of the method, a reliable roofing and gutter contractor can handle the project quickly and efficiently. Whether you need a new roof or gutters, the roofing company is here to help. Our roofing and gutter technicians have thousands of happy customers in some states.
Roofing and gutters can add a lot of value to your home. It is important to choose a company with experience with metal roofing and gutters. Roofing should be installed at the correct height and slope for drainage. You can even ask a specialist about the best type of gutter for your home. When choosing a gutter, you must know the manufacturer's warranty. Please make sure you check with them and register the warranty with them.
The best gutter systems are designed to channel water away from your home. Roofing and gutters work together to divert water away from your home's foundation. Installed properly, gutters keep rainwater from damaging the foundation of your home. It also protects the roof from damage from water leaking into the home's crawl space or basement. In addition, gutters protect your home in high-risk areas by preventing water from entering your basement or crawl space.
Roofing and gutters can be complex systems. They protect your home and should be installed by professionals who know the basics. You may need a 6″ gutter with leaders if you have a large roof. A 5″ K-style gutter will do the trick for most homes. However, if your roof is particularly steep, you may need to use a larger size. Choosing the right gutters for your home is an important decision.
While a roof's primary purpose is to protect the interior from rain and snow, gutters are an important aspect of a building's appearance. Gutters should be installed in such a way that they are not only functional but also beautiful. Your roof also adds to the overall visual impression of the building, and unique designs can become landmarks. It is important to note that your gutters should be inspected regularly to ensure the proper flow of rainwater.
In winter, a clogged gutter is as bad as having no gutters. Rainwater trapped in a gutter can weigh down the gutter, making it useless. Also, snowmelt can pool in your gutters and refreeze, weighing it down and pulling it away from the roof. Even worse, the clogged gutters are a breeding ground for mosquitoes and wasps. It can also cause a home to ice dams.
Besides replacing gutters, you can also choose to install a protective apron around them. These aprons prevent water from entering your house and are usually installed with sheet metal screws. Lastly, you can choose from copper or aluminum gutters. Copper and aluminum gutters are considered the most expensive and tend to crack over time. You can also opt for gutter guards or screens to minimize the need for maintenance. Roofing and gutters should be part of a home maintenance plan every year.
When your gutters are clogged, you can use a rain barrel or a downspout extender to divert the water away from your home. If the rainwater falls onto the roof, the water will run down your walls and into the valley below. The water will eventually reach your roof. In such a case, having your gutters rerouted to another location is better. It is also much better for the environment if you have a rain barrel in your gutters. Rain barrels will cost you between $30 and $100.